Continuing our Christmas Shopping List: Check out the Best Smartphones of 2013
Looking for something a bit bigger? Check out our list of the Top 5 Tablets of 2013
What are the best smartphones this Christmas season?
Thousands of holiday shoppers are about to go on an annual search for the best smartphone of 2013. This year the task is going to be fun, but also quite challenging. The phones at the top of the list are packed with a range of desirable features that will delight just about everyone. Cool features are getting lots of buzz.
Choosing the right smartphone always comes down to figuring out which one integrates best into the user's daily life. The average smartphone user desires a phone that operates smoothly and seamlessly while using various functions. Users tap into their phones for work and play around 150 times per day. The best phones are not only stylish, but highly sophisticated communication devices that perform multiple functions at the drop of a hat.
The hottest phones of the year have earned their spot based on a multitude of factors including intuitive interface, screen size and quality, weight, apps, games, video, phone connectivity and battery life. All of these phones are aesthetically pleasing. However, the operating systems that power these phones are also a key feature that should not be overlooked.
Here are the top 5 smartphones that should be on everyone's Christmas list this year:
5. HTC One

The HTC One wins the hearts of smartphone users that fall for this sleekly alluring phone. The first thing that stands out is its slender aluminum shell that feels light, yet is quite sturdy in construction. The 4.7-inch screen seems much larger which is probably due to the 1080p quality. Calling quality is rated good.
This phone is the one that slips out of a pocket quickly and gets that clear snapshot in the nick of time. It has a front-facing wide-angle camera. Easily scroll through menu options and photos with simple one finger action. BoomSound provides stereo sound while listening to music or watching movies. Some carriers include a streaming TV package, which does not work as smooth as it should. Downloading video and movies functions better than uploading. Battery life is decent.
The HTC One is an extremely attractive phone with easy operation features.
| | | |
| --- | --- | --- |
| Seller | Price | |
|   |  $598.94 | |
|   |  $425 | |
|   |  $710 | |
4. Motorolo Moto X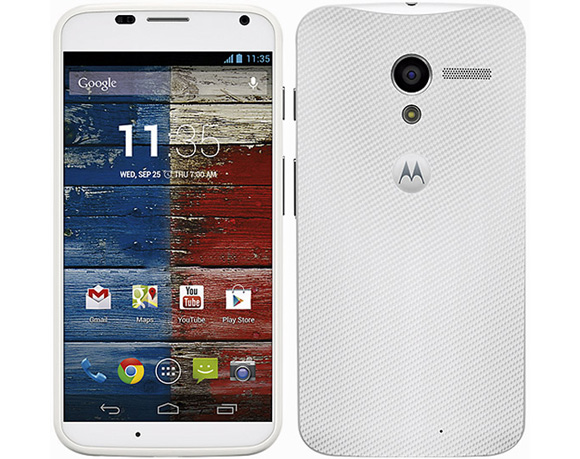 The Motorola Moto X is a highly anticipated collaboration between Google and Motorola. Powered by the Android platform the phone is designed for users seeking comfort and wiz bang features. Techno geeks may want to look elsewhere when it comes to developer platform options. The X8 Mobile Computing System lacks the power of other phones such as the Galaxy S4.
Phone design leans towards the cute over the sleek and sophisticated. The two color choices are white and black. Motorola designs and constructs this phone in the United States, which has strong appeal for those looking for Made in America products.
Comfort is big with this phone. It also comes packed with cool features such as Touchless Control. Access and interact with apps by speaking commands. The Moto X responds to questions about location, weather and other popular queries. Voice initiate calls, email access and more.
The Moto X is fun and trendy.
Seller
Price
 

 $619.99

 

 $595.00

 

 N/A
3. Samsung Galaxy S4
The Samsung Galaxy S4 is truly one of the hottest phones creating lots of buzz. It is packed with features and powered by the robust Android 4.2.2 operating system. Before going into the good stuff there are a couple of downsides. The first one is the cheap looking plastic design. The second disappointment is a dimmer screen than other phones. These minor faults, however, do not overshadow the awesome features included.
The Galaxy S4 zips along at a fast clip. There are lots of neat camera options for taking great action shots. Video features include slow motion. Watch movies and videos with ease on the 5-inch high definition screen. Play the latest video games on the go. The powerful quad-core processor makes streaming entertainment a breeze.
There are a ton of really cool features on this phone that requires some time to learn. This super phone is a lot of fun.
| | | |
| --- | --- | --- |
| Seller | Price | |
|   |  $569.99 | |
|   |  $469.99 | |
|   |  $598.99 | |
2. Samsung Galaxy Note 3
Samsung presents a bigger and much enhanced Galaxy Note 3 for the 2013 holiday season. It is a larger phone that makes a real statement. The phone has unique silver edges and faux leather back, which gives it that extra touch of distinction that other phones lack. The back is also fingerprint resistant. This is a phone that is perfect for people that want to make an impression during business meetings.
Fast Android processor powers this phone. The 5.7-inch screen is visually sharp and makes photos and video stand out in stunning HD detail. Colors appear richly vibrant. There are five screen modes.
The Note 3 includes the S Pen stylus that is neatly tucked away in a bottom corner. The S Pen activates the Air Command feature. Five features include a memo option. The Note 3 has an extremely large battery capacity of 15 hours.
| | | |
| --- | --- | --- |
| Seller | Price | |
|   |  $689.99 | |
|   |  $694.99 | |
|   | $699.99 | |
1. Apple iPhone 5s – Best Smartphone of 2013
The most highly coveted smartphone of the year is the Apple iPhone 5s, which is creating a lot of buzz. At first glance, this iPhone is strikingly similar to the previous year's model. But this little 4-inch phone is hiding some awesome operating power underneath the diminutive design. This phone has tons of potential that is waiting to be unleashed.
The home button is transformed into a fingerprint ID system. Hold your finger on the sensor to unlock your phone and pay for apps. Camera performance is beefed up a lot.
Graphics are super sharp and crisp. The real slam dunk is the new A7 processor. Apps run an average of 30% faster than any current phone. Look for amazing iPhone apps that break the mold to appear soon. This iPhone is a trendsetter.
| | | |
| --- | --- | --- |
| Seller | Price | |
|   |  $864.99 | |
|   |  $900.00 | |
|   |  $859.99 | |
Wrapping Up
The Apple iPhone remains the ultimate choice when it comes to sleek design and intuitive interface.
Top contenders have made great strides this year in the Android category. However, all of these make for fantastic Christmas gifts.
Image Credit: http://www.gizmag.com/smartphone-comparison-2012/24901/