Its almost Christmas time! Check out the Best Tablets for 2013
Make someone's Christmas extra special this year and pick them up one of these awesome tablets!
Best Tablets for 2013
Tablets are here to stay. These flat panel computing devices have captivated the public. Apple's pioneering iPad made so much money Microsoft had to get in on the action with its highly successful Surface.
People line the streets overnight to get the latest versions of a favorite that ends up not being much different from the previous. And the manufacturers are already working on the next version of that. The upcoming iPad Air, launching soon, has already got fans drooling and industry watchers curious for comparison with the best tablets.
There's no denying the convenience. We were giddy walking around with our 15 pound laptops dragging our shoulder down. Now we have these lightweight devices and the tech has become so easy to use even Grandma is tracking messages and dropping pics on Instagram.
With the ease of use and lightweight capacity, tablets are the place for movies, videos, music, web surfing and all the other digital distractions when we're on the train, bus, plane or standing in the parlor with a slice.
The best tablets can only be gauged by what you want them to do. They'd make absolutely great Christmas gifts, especially for (a) the techno geek and (b) that family member who probably has no idea how convenient and fun they would be. Here are the top 5 tablets for 2013 you should consider putting under someone's tree.
5.) Microsoft Surface 2 Pro

Hoping to top the market consuming iPad, Microsoft designed a tablet that did more than allow reading and browsing. This one had some cool keyboard covers and the feel of a real computer. It offered Microsoft Office 2013, 64 GB of storage and a 10.6 inch, five point multi-touch screen.
64 GB of Storage
10.6 Inch Screen
5 Point Multi-Touch System
For many, the Surface is what the iPad wasn't, the bridge between laptop and tablet. Suddenly, you weren't relegated to games, web and media. You could fine tune your presentations and documents for that next day's meeting while commuting home.
The Surface also offered a number of I/O ports, giving users a number of media options. Even a lot of Android tablets failed here. The kickstand allowed hands free use of the tablet. Even if it wasn't adjustable, it still let one do other things where most tablets required holding the unit while in use. The Surface has an impressive battery life and dual band Wi-Fi.
4.) Asus Transformer Pad Infinity TF700
The TF700 boasts a 10.1 inch, 1920 x 1200 pixel IPS+ display and Corning's Gorilla Glass, a thinner sheet with better touch response. The viewing angle stands out and puts this model a cut above the rest in graphics and resolution.
2 MP Front Camer/8 MP Rear Camera with LED Flash
10.1 Inch Screen
Gorilla Glass
Many consider it the best of the large screen Android tablet options on the market. Unfortunately, the number of apps that can take advantage of the high resolution are slim. The camera is an excellent choice for photo fiends. It has a LED flash, two megapixel front camera and an eight megapixel in the rear.
The aluminum frame is solid with textured concentric rings and a tapered edge that really gives the unit a unique appearance among tablets. Netflix, Kindle apps, and e-book readers come pre-loaded, making it easier for the novice to jump right into the fun aspects of owning a tablet. It also features Asus' cloud storage solution.
3.) Amazon Kindle Fire HD 8.9 Inch
If you're on a budget and especially if the recipient isn't necessarily tech savvy, the Kindle Fire HD is a killer media tablet for the money. It's sleek with a great design and has one of the friendliest tablet interfaces around. You can get a 16 GB model or a 32 GB.
16 GB or 32 GB
Kid Friendly with Parental Controls
Friendly Interface
There's also a 32 GB cellular and 64 GB cellular option. As it is a device built by Amazon, it should come as no surprise its interface leans toward shopping and content, especially making it easier to grab things on, yup, you guessed it, Amazon, including the over 10,000 apps in their Appstore.
The Kindle is also kid friendly, with parental controls, specific individual content libraries and time limits on apps, books and videos. Do be aware that this is not a productivity tablet. For what it does, it's an excellent choice and a great gift for someone that uses tech casually.
2.) Google Nexus 10
This one's a great first tablet for someone, offering consumer friendly, yet compelling features. It has the innovative split screen note taker, pressure sensitive drawing and a universal remote. The Nexus 10's Super PLS screen is considered one of the best on any Android tablet.
2560x1600px Resolution
Stereo Speakers
Kindle, Nook, Netlix and Google Play Compatible
If you're looking to gift a tablet to a lover of games, movies, television shows or video surfing, or anyone that drools over the latest high-def big screen tech, the Nexus 10 should end up under that tree. It renders sharp text and stunning 2560 x 1600 pixel resolution. It's also has a good response time.
Navigating menus, opening and switching apps, are as fast as an Android gets. Loading of web pages was also impressive. The Nexus 10 has a wraparound chrome bezel. There are stereo speakers on each side. The tablet works with Kindle, Nook, Netflix and, of course, Google Play.
1.) Apple iPad (4th Gen) – Best tablet of 2013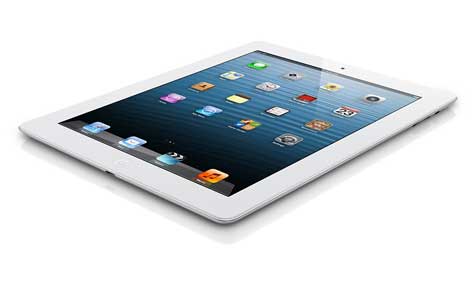 Despite the steep competition growing every day, the iPad still leads the pack. It has a stellar camera, top notch Wi-Fi and, of course, more apps than you could shake out of a tree. It comes in 16, 32 and 64 GB units and 4G variants for different providers. The 2048 x 1536 pixel, 10 inch Retina display is the one to beat.
2048 x 1536 px, 10 inch Retina display
16 GB, 32 GB, 64 GB Models Available
4G
Sharp, bright and clear, browsing and gaming brings a tear to the graphics lover's eye. Unlike a lot of its competitors,Apple puts energy into updating its apps to hold up to the latest generation.
Browsing speeds are unparalleled thanks to the excellent Wi-Fi performance working alongside an efficient processor, a 5 GHz network and stellar support software.
Maybe it's because they had a head start and everyone else is simply trying to keep up, but this tablet has a polish and range that other tablets hope to achieve.
Wrapping Up
These top five tablets for 2013 will make excellent Christmas gifts for everyone from the tech geek to the newcomer.
Open a new world and get them ready for a new year of entertainment and learning. Simply decide which features work best for whom and you have found the perfect gift.
Image Credit: http://www.makeuseof.com/pages/makeuseof-tablet-buying-guide-summer-2013