8 Safety Tips For Using A Portable Generator
8 Safety Tips For Using A Portable Generator
Portable generators can come in handy, especially during prolonged power outages. While the standby generator offers the same purpose, it doesn't provide the same level of flexibility for most users. That's why some homeowners and small business owners have a portable generator ready so they can use it in case of emergencies. Furthermore, portable generators are also useful for recreational purposes, such as going on a camping trip or hosting an outdoor event that requires electricity.
Overall, portable generators have various functions that bring convenience to their users. However, if you're not aware of using them correctly or handling them safely, they could be dangerous or even life-threatening. Generators usually burn gasoline or other types of fuel to produce energy, leaving you with two harmful properties: carbon monoxide and electricity. When mishandled, you and anyone nearby could be at risk of electric shock, electrocution, fire, or carbon monoxide poisoning. (1)
Thus, before you invest in a portable generator, make sure you're knowledgeable about the safety tips when operating it. For your guide, here are eight safety tips to remember when using a portable generator.
1.Buy the correct generator
The first step towards portable generator safety is buying the correct one. Keep in mind that portable generators may differ in size and amount of wattage. Ultimately, the key to buying the right portable power generator is knowing how you plan on using it.
If you're unfamiliar with portable generator sizing or wattage, it's best to approach the generator salesperson or a professional electrician. They'll often ask you first what purpose you'll use the generator, and they'll calculate the needed wattage for that specific purpose. (2)
Besides the help of professionals, you can also do your research about portable generator wattage sizing. You may use a portable generator sizing calculator to have an accurate idea of the size or amount of wattage needed in your generator.
Typically, small portable generators are only best for minimum usage like charging phones, powering the lights, or running small appliances (e.g., coffee maker, electric fans, small radios). Meanwhile, medium-size portable generators are best for running multiple small devices. Large portable generators are intended for more extensive operations, and you have the freedom to use them to power anything within the house.
A professional can guide you with the pros and cons of every generator type and size to help finalize your buying decision.
2.Study and understand the owner's manual
Once you've bought your portable generator, make sure to study and understand the owner's manual right away. Don't wait until the time you need to use it (e.g., power outage) to study and read the manual.
The owner's manual, also referred to as generator safety tips booklet, consists of all the instructions, descriptions, and warnings revolving around the portable generator usage. If the manual is missing, damaged, or lost, call the manufacturer or the store where you bought the generator and ask for another copy. (3)
3.Only use the portable generator outdoors
Regardless of how small it is, portable generators should never be used indoors or in an enclosed place. When running, generators emit this odorless and colorless gas called carbon monoxide (CO), which could kill anyone within five minutes once it fills your indoor space. Furthermore, carbon monoxide could also trigger fire when surrounded by flammable equipment (e.g., matches, lighters, cigarettes). (2)(3)
Thus, always remember to only run your portable generator outdoors in a well-ventilated area away from your residence or any civilian nearby. As much as possible, place it at least 20 ft from your house and direct the exhaust away from anyone. You can also designate an open but roofed area or an open tent to protect your generator from the rain, sun, or snow. Meanwhile, if your neighbor is using their portable generator, avoid lingering around the area, especially if you're bringing flammable equipment with you. (2)
4.Use the right extension cords
Since you can only use the portable generator outdoors, you'll likely need extension wires to bring power into the building. In that case, make sure you're using the proper extension cords that can handle the amount of electricity from your portable generator.
Keep in mind that not all extension wires are the same. Using the wrong cord might cause overheating or melt the plugs, creating fire hazards or electrical shocks. When choosing extension cords for your portable generator, don't forget to consider the thickness of the cord. (1)
Thick and heavy-duty extension cords have more capacity to handle large electrical loads than thin and light cords. Ultimately, the main point here is to use extension cords that match the electrical load of appliances or devices.
For example, when plugging a 3,000-watt space heater in your generator, you need to use a cord with a rate of 3,000 watts or more. In addition to using the correct extension cords, ensure that the wires or cords are free from cuts to prevent the potential risk of shocks and electrocution. (1)(2)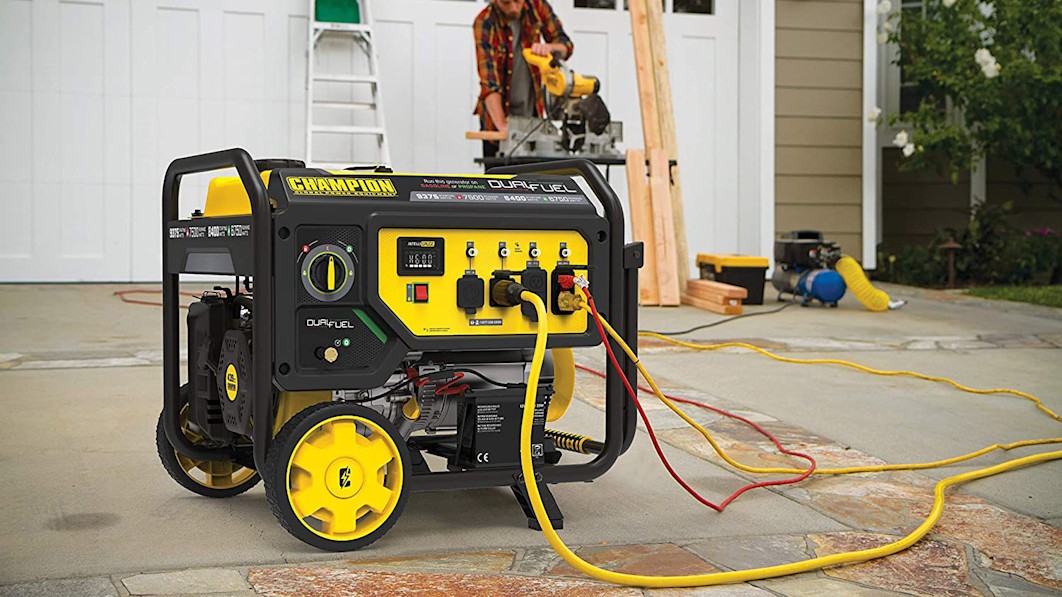 5.Don't plug the portable generator into your home's wall outlet
Plugging the generator directly into an electrical outlet could be highly dangerous and deadly not only for you but also for your neighbors and utility linemen working on the transformer. When done incorrectly, this reckless practice could cause the generator to 'backfeed' into the main electrical lines, electrocuting the utility workers, frying your appliances, or starting a fire. (2)
If you intend to connect your portable generator, it's best to hire a licensed electrician to complete the job. They'll ensure that your cords and other electrical parts have met your generator's electricity requirements and capacity.
6.Avoid overloading the generator with appliances
As mentioned earlier, portable generators may differ in size and amount of wattage, which means not all of them can handle the same loads of appliances or devices at once. So, before plugging in anything, check the generator's power rating first and ensure the total power requirements of your devices are less than the generator's rating.
Otherwise, overloading your generator with multiple devices could severely damage your appliances and even cause cord-related fires.
7.Keep a safe distance away from the generator
When running, most parts of the portable generator could become extremely hot and potentially cause burns to anyone who touches it. So, keep everyone, especially kids and pets, away from the generator, specifically the muffler. You can also put up signage to warn passersby that a generator is currently operating nearby.
8.Turn off or let the generator cool down before refueling
For gas-powered portable generators, remember to turn off or let the generator cool down first before refueling. Adding gasoline while the generator is running or still hot could quickly ignite a fire and, in worst cases, cause an explosion. So, turn it off and allow the engine to cool down for at least 15 minutes or more before adding the gas. (2)
Takeaway
Portable generators benefit homeowners, small business owners, and other users, especially during emergencies. But when used and operated improperly, this device could be dangerous and pose safety issues. By following these safety tips and taking note of the manual instructions, you can safely use the portable generator anytime and prevent possible serious injuries or deaths.
References