How to Get Minecraft Bedrock Edition on PC free: Download Minecraft for Free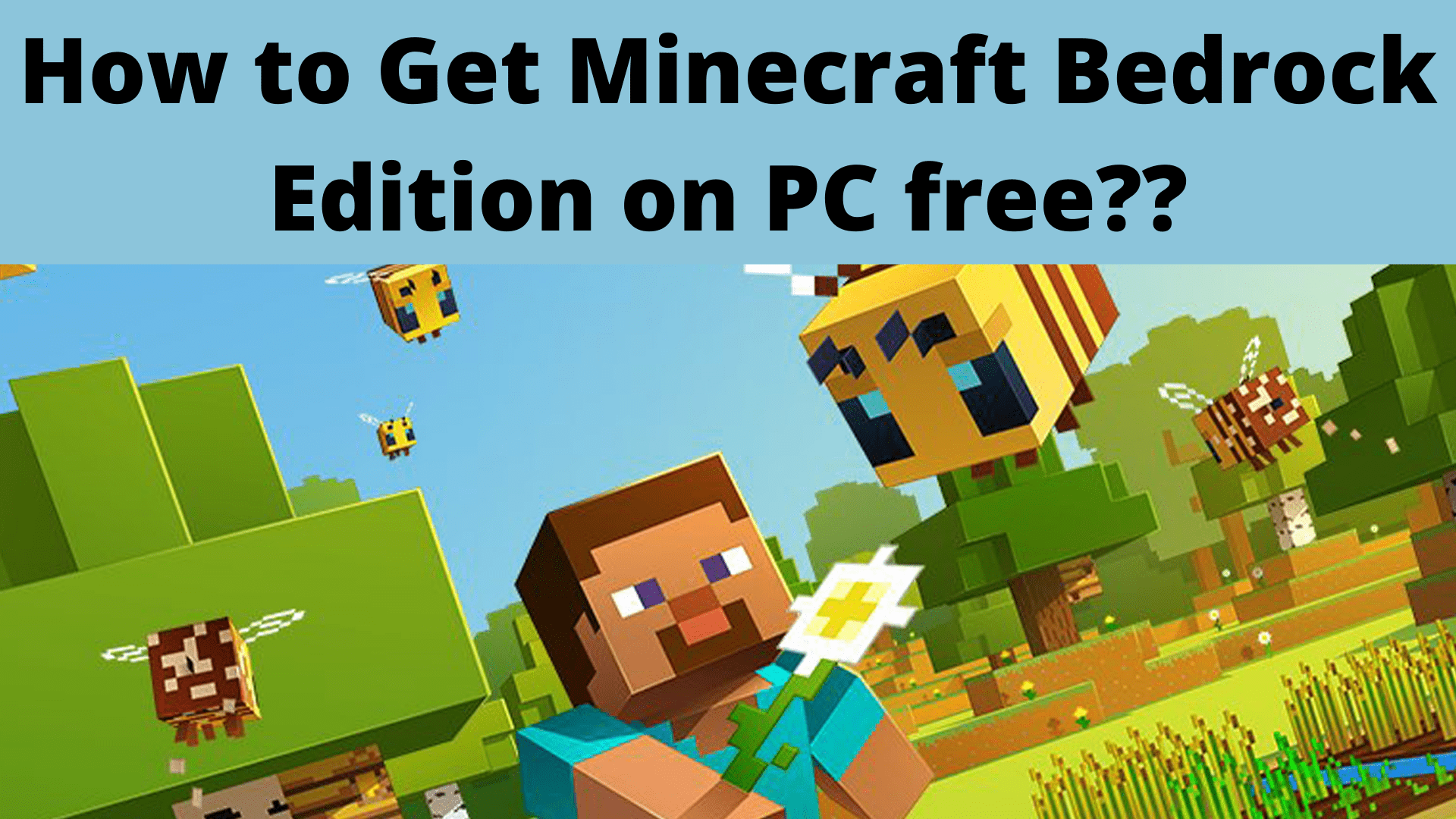 Do you want to download the Minecraft Bedrock edition for free? Are you bored of playing the classic edition? Have you bought Minecraft JAVA edition before October 2018? If the answer to all these questions is YES, then you are lucky to read this article. Today I am going to share how you can get Minecraft Bedrock Edition on PC free.
Minecraft is a building blocks games where you can create your world. Millions of players play Minecraft on different devices to improve their game-playing strategy. Minecraft game has different editions, The Java Edition is for PC, Minecraft PE for smartphones, and the Bedrock Edition allows you crossplay and you can play it on Xbox One, Android, and iOS smartphones, Nintendo Switch, and many more. Players want to get the Bedrock Edition on their PC but only those who have bought the Java Edition before 19th October 2018, can demand a free copy.
In order to save your game progress, Minecraft Keep Inventory Command can help save your inventory.
Minecraft Bedrock Edition
Minecraft Bedrock Edition is a part of multiple releases by Minecraft. It is a collaborative project of Mojang Studios, Xbox Game studios, 4J Studios, and SkyBox Labs. Some time ago, its engine started with Pocket edition, that's why the entire family of it called "Pocket Edition", "MCPE", "Pocket/Windows 10 Edition".
There are many variations of the Minecraft Bedrock Edition. But the recent one we are currently using is 1.14.60. This update is present in various forms like Pocket Edition (for each flexible stage), Windows 10 Edition, Gear VR Edition, and Fire TV Edition. Xbox One Edition, Nintendo Switch Edition.
Cost Bifurcation of Minecraft Bedrock Edition :
Well, as there are multiple Bedrock variations. All these adaptations are although somewhere indistinguishable, but their prices vary. Let us give you a quick rundown of the price ranges of all its editions :
Mobile versions cost US$6.99 ($7.99, #6.99, AU$10.99).
PlayStation 4 – $19.99
Xbox One – $16.74
Fire TV price – AU$29.95
Windows 10 – US$29.99
Nintendo Switch renditions – US$29.99
(($19.99, #16.74, AU$39.95).
Windows 10 variant comes in a Starter Collection or Master Collection – US$49.99 ($49.99, #39.99, AU$69.95)
Minecraft Circle Generator: How to Build a Perfect Circle in Minecraft?
Minecraft Bedrock Edition's New Name?
Hey folks, one thing worth noting here is that now Bedrock Edition has been dropped from the name of Minecraft Bedrock Edition. Now it is known as "Minecraft for Windows 10". You can also check it on its official website as well. Now, you must be thinking that why it is done? Right? Well, it is done to turn down all sorts of confusion.  So whenever you plan to download Minecraft's Bedrock edition, then keep this thing in mind that – now you have to search for Minecraft for Windows 10. 
FEATURES OF MINECRAFT BEDROCK
There are multiple features of the Minecraft Bedrock Edition. let's have a look at that –
Here By bone meal Sugar canes can be developed.
Moreover, the hordes and many different substances are used to assault the player in any event when the game is played.
Oars can be made by Pontoons by Wooden shovels.
Here players get a chance for more splendid Nether brick/blocks.
Multiple waters and lava surfaces.
One of the most unique Pony Armor could be built with leather.
Charm tables have lustrous radiance in square format.
Amazing graphics showing snowy biomes and leaves frozen with snow.
System Requirements For Minecraft Bedrock Edition
Before starting downloading Minecraft Bedrock Edition, there are few things that need to be taken care of. Let us know about them in detail so that later on no compatibility issues occur.
Minimum Requirements
CPU: Intel Core i3-3210 3.2 GHz / AMD A8-7600 APU 3.1 GHz or equivalent
RAM: 4GB
GPU (Integrated): Intel HD Graphics 4000 or AMD Radeon R5 series with OpenGL 4.4*
GPU: Nvidia GeForce 400 Series or AMD Radeon HD 7000 series with OpenGL 4.4
HDD: At least 1GB for game core, maps, and other files
OS: Windows: Windows 7 and up
Minecraft 1.18 Update: Most important features revealed in experimental snapshots so far
How to Get Minecraft Bedrock Edition on PC for free
There are three ways to get the  Minecraft bedrock edition on PC for free.
Method 1: Using Bedrock Edition on PC
Open your favorite web browser.
Open Mojang official webiste, www.mojang.com.
On the top right corner of the Home page, click the account button.
Tap the Login button there.
Enter email and password and tap LOGIN.
Click the Redeem button below Minecraft: Bedrock Edition for Windows 10.
After that, you will be navigated to the Microsoft store. Click the redeem button there.
Click Go to Minecraft: Bedrock Edition for Windows 10.
Press the Open button to start the game, Minecraft: Bedrock Edition for Windows 10.
Method 2: Using Demo
Open your browser and Go to the Minecraft website.
Click three horizontal lines on the top right of the home page.
Click Trial and download from the menu appeared after performing step 2.
Press the download button.
Install Minecraft n your system.
Launch the game. Once you open Minecraft, you'll be prompted to enter your Minecraft account information, after which point you'll be able to play the demo for 100 minutes.
Please note if you do not have an account then create an account first.
Method 3: Using bedrock Editon on Xbox One
To use this method, make sure you have a copy of classic Minecraft.
Open Xbox with the game.
Select the Store tab. Scroll right to the Store tab at the top of the screen, then press A on your controller.
Select search and press A. It's in the middle of the Store screen.
Type Minecraft.
Press three horizontal lines icon. Select Minecraft and press A.
Select get and click A.
Wait till the download and installation are complete.
 How to download Minecraft Java Edition on PC/ laptop
Minecraft Java Edition is also much popular, so if you want to download its Java edition for PC, then you must know that it is not free of cost. So for this, you have to buy it.
Here also it comes with two variants :
Starter collection
Master Collection
That usually costs around INR 2750 per Microsoft.
Now you must be thinking that what is the difference between these two? 
Well, the major difference is that Master Collection offers 1000 Minecoins whereas Starter collection offers 700 mine coins.  Moreover, the Master collection also includes more Skin Packs.
Follow these steps to download in quick steps :
Visit Minecraft. ne first on your favorite browser of PC/Laptop.
Then click on "Get Minecraft".
Here you will get multiple options, select a computer from it.
This edition supports Windows, macOS, and Linux.
Proceed with the payment. Now you can easily install this highly awaited edition
Minecraft servers 2021
Minecraft can be played on numerous servers. But it becomes a tedious task to hit and try each one. So to ease this work, we are listing the most active servers that come with their own self-contained multiplayer world. so without any delay, let us know more about them.
MINEPLEX – IP: eu.mineplex.com or us.mineplex.com
Server: Minecraft survival server
GRAND THEFT MINECART – IP: mc-gtm.net
Server: Minecraft survival server
Server: Minecraft battle royale server
PIRATECRAFT – IP: mc.piratemc.com
Server: Minecraft RPG server
MINECRAFT MIDDLE EARTH – IP: build.mcmiddleearth.com
Server: Minecraft RPG server
How to Play Minecraft on PC and Xbox together?
Final Verdict
Well, friends, This is how you can get Minecraft Bedrock Edition on PC free. I hope this would work well for you.
How do you like the article? Please share your feedback. For more information, you can refer to this video. Watch this and share your views with us in the comment section.
https://youtu.be/3EuvpNDciGY?t=6
Thank you! Enjoy building the world!